Custom Knit Sweaters
Create knitted sweaters for your next big corporate event, for resale, for staff uniforms and for fun, memorable gifts. Our sweaters are fully custom, eco-friendly and sustainable, which means you can create something truly special for your brand.

Next step add your details
for every item we make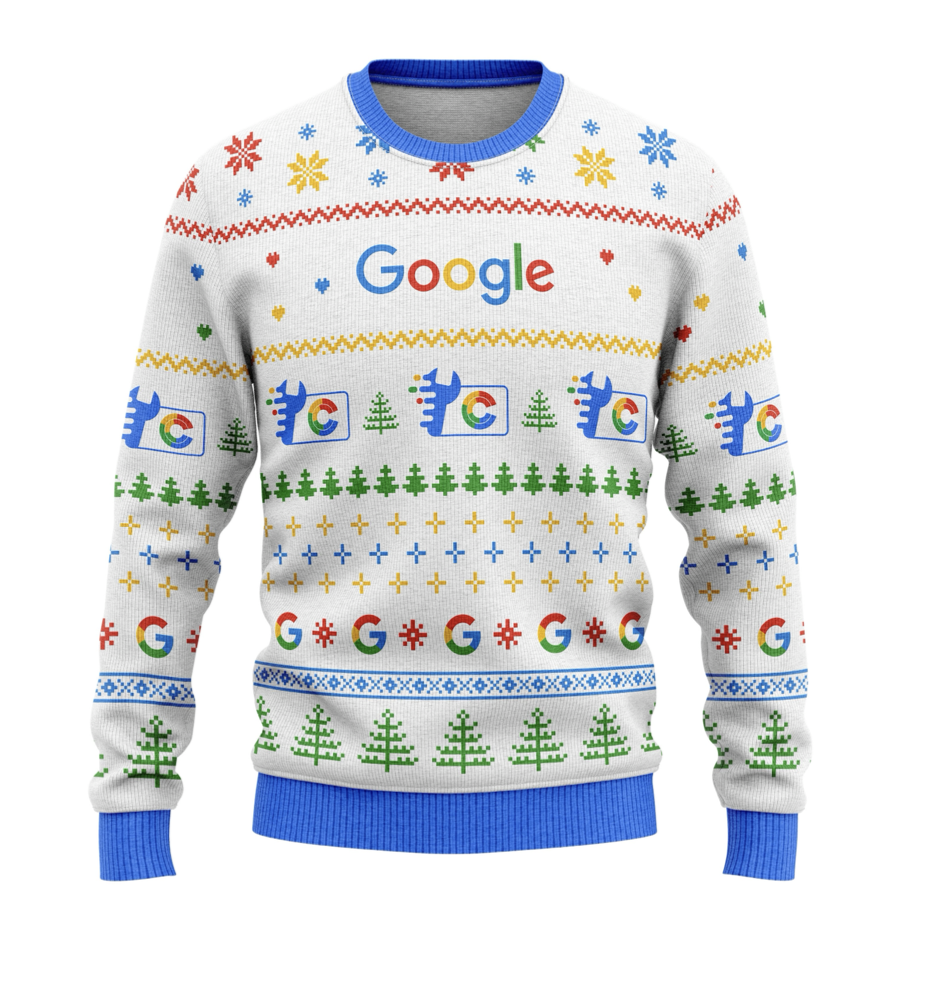 Fully Knitted, Fast Production
You can create your very own custom ugly Christmas sweaters. Knitted from scratch, the design can go anywhere on the front, back and sleeves. Any colors, any logos... it's all up to you!
Super fast, 30 day production (express orders also available)!
A skilled team to help create your design!
Super soft, amazing quality!
Sustainable, long-lasting fabrics!
Minimum order of just 100 sweaters!
Frequently Asked Questions
+
Can I send through a design I'd like to get made?
Of course. If you've got something in mind to make your knitted sweaters stand out, just let us know and we'll take a look and get started on it for you.
Can you help with design?
Of course. We have a skilled creative team who would be more than happy to help with your design, incorporating any logos, colors or imagery you feel would make your knitted sweaters the best they can be. We also have a standard template available if you would prefer to build off of that within your own team. We will accomodate whatever works best for you.
What if I don't like the sweater?
This doesn't happen - we have been making these sweaters for a long time and our customers have always been thrilled with the final product. Once we get your design, our highly advanced knitting machinery allows us to double check that every detail looks exactly as requested. We then run off the first sweater and send you a picture for approval - we won't ever go into production until you're 100% happy.
Can I speak to someone about my sweater?
Absolutely. Every customer is assigned an account manager and they'll be fully available throughout the process to answer any and all your queries! During business hours, you can always expect to hear back on any query in under an hour!
What is the minimum order quantity?
The minimum order quantity is just 100 knitted sweaters. In general, minimum order quantities for products like ours are in the thousands, but our factory has been set up to ensure that you can order smaller quantities while still maintaining that essential high quality. The typical order we receive is from 250-500 sweaters, but we've also taken much larger orders.
Are there any hidden costs?
None! We'll give you the full price up front, including both taxing and shipping right to your door.
What material do you use?
All our knitted sweaters are either super soft acrylic or an acrylic blend (85% super soft acrylic, 15% wool), all tested against a variety of other fabrics to ensure that these are the best quality option for our products. Every one of our sweaters is extremely soft - a top quality product.
How fast can I get them?
Fast. The sweaters are knitted from scratch so there is some handiwork involved, yet our typical production timeline is just 30 days. We can even offer rush orders on request, so if you let us know when you need them for, we'll be able to confirm whether we can meet your date. In the rare cases that we can't, we'll tell you right up front.
Can I get my own labels?
No problem - we can make and include your logo on the label of each ugly sweater.
Are there any design restrictions?
The design can go anywhere so you can use the front, back and sleeves. You can use any colors you like with a maximum of 6 colors per design. The cuffs, collars and hem need to be a solid color, but other than that you have total freedom to create only the most amazing designs!
Sustainability
+
Waste / Landfill
Almost all merch ends up in landfill without being used. Not these ugly sweaters - our unique pieces of artwork are loved by all. Our aim is to create sweaters that are loved and reworn for a very long time. We love using social media to watch as our customers' sweaters pop up again and again. We've been making sweaters for over 10 years now, so we know how to make them last.
Materials
We use 100% acrylic yarn to make the sweaters. The sweaters are soft and durable, and most importantly they wear and wash well. Acrylic is the most suitable fabric in the market right now for our sustainability objective at Roody.
Work Conditions
We have been working with a select group of production partners for years now, and they are truly amazing. The work conditions for staff are absolutely excellent - our production partners are audited independently and we also visit the factories periodically to check for ourselves. We take care to never work with cheap, dangerous or exploitative production partners.
Tree Planting
And of course, we also plant a tree for every single item we make!
One tree planted for every item
We make it easier to choose sustainable options for your swag. You can create amazing merch your team will love (and share). And for every item you make, one tree will be planted in areas where they need them most.
155k+
trees planted
Create your very own custom Christmas sweaters for 2021
Each sweater is knitted from scratch - you can design your own or our team can lend a helping hand. Swag has never been more important for brands - creating fun products that your fans, customers and team love is what it's all about. It's not enough to just print on a cheap t-shirt now that you can create amazing, sustainable products from scratch.
Your merch will be made with the exact colors you want - any color, any design. The process couldn't be easier.
Roody has been creating awesome branded custom ugly sweaters, custom beanies and custom socks since 2015 for companies like Facebook, Twitter, Budweiser, Warner Brothers, iHop, etc. The minimum number of custom Christmas sweaters you can order is just 100 units, so you can create the most amazing gift for your customers, fans and staff. You can choose any colors you like and your design can go anywhere - on the front, back and sleeves.
Create your own Custom Knit Sweaters to sell
Our knit sweaters are very popular and sell fast. If you have a following for your brand (none too big or too small), why not reward them with some awesome custom knit sweaters to your website? Well-loved and worn year round, these sweaters are designed to last an incredibly long time. Some of the other brands selling these sweaters include breweries, influencers, charities and global corporations.
It's easy to design your own custom knit sweaters - you can use any colors you like and the design will be knitted on the front, back and sleeves. The quality of these sweaters is amazing and they sell lightning fast.
How to create your own Custom Knit Sweaters
It has never been so easy to create your own custom knit sweater for your brand. With a very low minimum order quantity (just 100 units), you can order fully customized sweaters. Every part of the sweater is knitted from scratch - you can choose any colors or any design.
Just contact us with some details about the project and any ideas you have for creating your own custom knit sweater. If you have a designer we can send you a template or, if you prefer, our ugly sweater design team can help create an amazing design.
Once you're happy with design we knit your custom ugly sweater sample and send you some pictures for your approval. Once approved, we then go into production and your sweaters are knitted from scratch.
The sweaters are delivered straight to your door, anywhere in the world.
Our Story
We started designing and making sweaters way back in 2009, selling directly to customers and building up a base in over 30 countries which. We started making Christmas sweaters and selling them directly to customer, selling out fast every year.
Some brands approached us and asked us if we could help design and make custom knit sweaters for them. The sweaters we made for these brands went crazy viral, and customers came back time and time again. As the business grew, we decided to turn our focus entirely to custom ugly knit sweaters and formed Roody Originals in 2015.
Previously, it had been nearly impossible to create your own custom sweaters - minimum orders were in excess of 1,000 units and delivery timelines were 3-4 months. Timelines were loose and the design process was messy, to put it mildly. When we entered the market in 2015, we redesigned this process from scratch, and can now create amazing custom sweaters with low minimums (just 100 units) and fast, guaranteed deadlines for delivery.
In 2018, we set the objective of planting 1 million trees by 2023, and are fully committing to that goal by planting one tree for every item we make. It's now our core mission to get these trees planted, to create a positive atmosphere fitting for the products we create. We want to help brands create something that will engage influencers and fans, which creates a buzz and crucially, can make a difference.
Hoodies, sweatshirts and t-shirts are fine. Speaking from experience, we've never been excited about any of these, because we're unlikely to try it on, take a picture and share it. We're unlikely to connect with it in the same way as our flagship products here at Roody. Our knitted custom sweaters are different. They create an impact. Fans and influencers remember them. Love them. Share them. The quality of the product is important because we want our sweaters to be loved.
Now, in 2021, we are pleased to say that we've worked with countless brands, big and small, creating thousands and thousands of sweaters each year, and we're showing no signs of slowing down.
Our Ethos
An amazing product, always - we don't mess around on this.
No ridiculous minimum order quantities (just 100 units).
Unbelievable value vs impact.
Great customer service (we typically respond to all mails within an hour, and deliver all of our products on time).
About our Custom Knit Sweaters
We create great custom sweaters in all types of materials - our view is that super soft acrylic make the best sweaters but we're happy to work with other fabrics on request.
Your sweater is associated with your brand – we take this incredibly seriously.
If you need help, we've an amazing team of designers that can do pretty much anything with a sweater.
We have strong quality control checks at every point along the way and check with you if we're not sure about something.
Over the years we've created tens of thousands of sweaters and we've received every kind of ask – we'd be delighted to help in any way we can.