Fast Turnaround
Super fast, 30-35 day production (express orders also available)
Sustainable, Quality Material
Sustainable, long lasting products that won't end up in landfill.
Low Minimum Order
We have a low minimum order at just 50 units.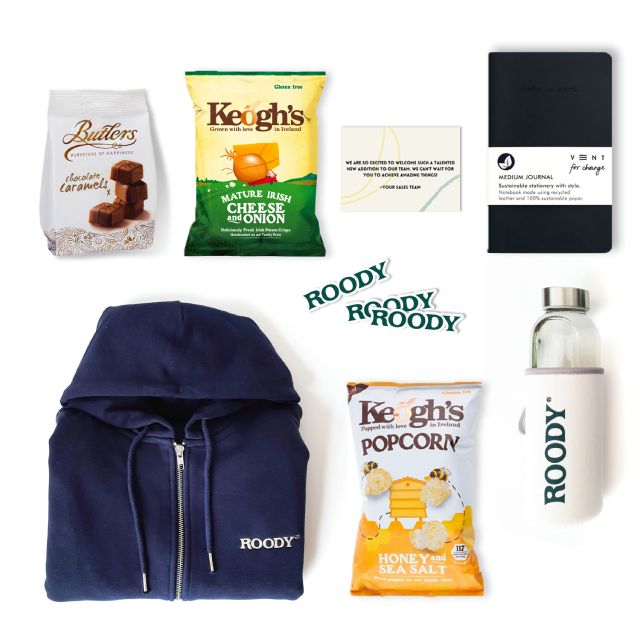 Show your appreciation
to the amazing people who have chosen to be part of your team
Our custom onboarding kits include
Custom Branded Item:
Welcome Card.
Water Bottle.
Stickers.
Hoodie.
Non Custom Branded Item:
Vent for Change Notepad
Keoghs Popcorn
Keoghs Potato chips
Butlers Chocolate Pouch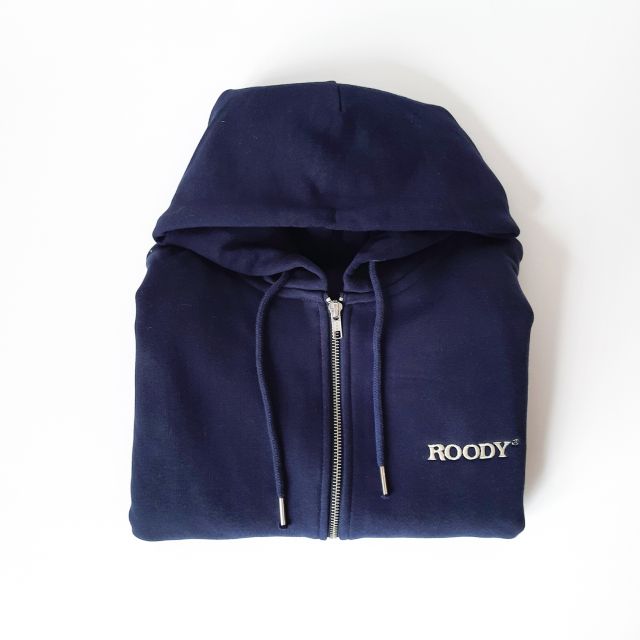 Welcome Aboard Swag Box - Pricing
Minimum order just 50 units (you can order 50 and we can store them and ship them as needed).
| | |
| --- | --- |
| 50 - 99 units | $99 per box (USD) |
| 100 - 249 units | $97 per box (USD) |
| 250 - 499 units | $95 per box (USD) |
| 500+ units | $89 per box (USD) |
Sustainability of the Products in the Box
Reusable glass bottle
There are thousands and thousands of water bottles out there- we tested lots of them and really like this one. Simple, lots of options on colors and made of glass - it's the one we use ourselves. You can include your logo on the sleeve of the water bottle.
Hoodie
The standard hoodies we use are made from 85% organic cotton, 15% recycled polyester. They feel super soft and wash amazingly well. Supply chains are well understood and the product looks and feels amazing.
Vent for Change Notepad
Beautiful A5 notepad available in a variety of colors. Vent for Change have amazing sustainability credentials – 100% recycled covers, recycled removable paper inside the notepad.
Popcorn
We use Keoghs who make artisan popcorn which is simply delicious. Keoghs have excellent sustainability credentials. There are a variety of flavors available but we love the honey and salt. We promise, it won't go to waste.
Potato Chips
We use Keoghs who makes artisan potato chips from potatoes grown on their own farm. Keoghs has excellent sustainability credentials. There are a variety of flavors available but our team loves the cheese and onion flavor.
Dark chocolate Peanut Butter Cups
We use Justin's organic fair-trade chocolate who is made from delicious and creamy organic Peanut Butter: Certified Gluten Free, Kosher, Vegan & Dairy Free.
Stickers
Our stickers are printed with soy-based inks, on FSC-certified paper, and is Acid, sulphur, and lignin-free.
Custom Box
For the most sustainable packaging, we use kraft boxes made from recycled materials. We offer a range of custom options including printed on logo / messaging or add a sticker.
An effective onboarding can make or break a new hire
Companies that are able to recruit and retain the right talents can grow and flourish. Sadly, up to one third of their new hires are leaving within the first year.
However, organizations with dedicated budgets and formalized employee onboarding programs have been able to demonstrate their ability to retain talent.
With a growing multi-location team, providing new employee welcome kits will help you capture some of these onboarding benefits:
Boost employees engagement for new hires and rewards program.
Reinforcing your company culture and values.
Employees getting branded gear they will actually use.
Delivery to Single or Multiple Addresses
Roody is a full service swag partner which means we can deliver your individual swag boxes worldwide.
Delivery to one location:
If you'd like your swag delivered to a single location where you can pick, pack and deliver them, that's no problem at all. We deliver worldwide.
Delivery to lots of addresses:
If you would like your swag box delivered to your team or your customers individually, we are happy to help. We have our own fulfillment centres and are happy to deliver your swag with your individual messages. We offer worldwide delivery.
Frequently Asked Questions
One tree planted for every item
We make it easier to choose sustainable options for your swag. You can create amazing merch your team will love (and share). And for every item you make, one tree will be planted in areas where they need them most.
155k+
trees planted